Cloudpital # 1 is one of the top clinic Software in Saudi Arabia In an era of rapid technological advancement, the healthcare industry is not immune to the transformative power of software. Clinic software, also known as practice management software, has been making waves in the healthcare sector. While its primary function is to streamline administrative tasks and enhance operational efficiency within medical practices, it also holds the potential to significantly improve healthcare accessibility. In this blog, we'll delve into how clinic software can contribute to making healthcare more accessible to everyone.

Cloudpital # 1
clinic Software in Saudi Arabia
Streamlined Appointment Scheduling
One of the primary barriers to healthcare access is the cumbersome process of scheduling appointments. Long wait times on the phone, inconvenient office hours, and limited appointment slots can make it challenging for individuals to book timely appointments with healthcare providers. clinic Software in Saudi Arabia offers a solution to this problem by enabling patients to schedule appointments online, 24/7. Online appointment scheduling not only improves convenience but also helps individuals with busy schedules or mobility issues. 
Efficient Patient Records Management
Access to medical records is crucial for providing effective healthcare, especially in cases of chronic illnesses or when patients visit different healthcare facilities. Clinic software digitizes and centralizes patient records, making them easily accessible to authorized healthcare providers across different locations. With secure, cloud-based record storage, patients no longer need to carry physical copies of their medical records or worry about records getting lost in the transfer between healthcare providers. This streamlined access to patient records ensures that medical professionals have the necessary information to make informed decisions, leading to better healthcare outcomes.
Telemedicine Integration
Telemedicine has emerged as a game-changer in healthcare accessibility, allowing patients to consult with healthcare professionals remotely. clinic Software in Saudi Arabia often integrates telemedicine features, making it easier for patients to access healthcare services from the comfort of their homes or remote locations. This integration enables individuals in rural areas or those with limited mobility to receive medical advice and treatment without the need for extensive travel. It also offers a lifeline during emergencies when immediate medical attention is required but reaching a physical clinic is challenging.
 Enhanced Communication
Effective communication is vital in healthcare, both between patients and healthcare providers and among different healthcare professionals involved in a patient's care. Clinic software facilitates secure and efficient communication through features like secure messaging and electronic health record sharing. Patients can communicate with their healthcare providers, ask questions, and seek clarification about their treatment plans, enhancing their understanding of their health conditions. Additionally, healthcare professionals can collaborate more effectively, reducing the chances of errors and ensuring comprehensive patient care.
 Improved Prescription Management
Accessibility to medication is a critical aspect of healthcare, and Hospital Software in Saudi Arabia can play a role in enhancing it. Electronic prescription features within clinic software enable healthcare providers to send prescriptions directly to pharmacies, eliminating the need for patients to physically pick up paper prescriptions and drop them off at a pharmacy. This digital prescription system ensures that patients can access their medications promptly, leading to better medication adherence and improved health outcomes. It also minimizes the risk of prescription errors, which can have serious consequences for patient safety.
Efficient Billing and Insurance Processing
The financial aspect of healthcare can be a significant barrier to access, with complex billing processes and insurance claims often causing confusion and delays. Clinic software streamlines billing and insurance processing, reducing the administrative burden on both patients and healthcare providers. Automated billing and insurance claims submission ensure that patients receive accurate bills and that healthcare providers receive timely payments. This can help lower healthcare costs in the long run, making healthcare more affordable and accessible for everyone.
Data Analytics for Healthcare Planning
Clinic software also provides valuable data analytics tools that can assist healthcare organizations and policymakers in making informed decisions to improve healthcare accessibility. By analyzing patient data, healthcare providers can identify trends, gaps in care, and areas where accessibility needs improvement. This data-driven approach of doctor Software in Saudi Arabia can lead to targeted interventions, such as opening new clinics in underserved areas, reallocating resources, or implementing outreach programs to reach marginalized populations. Clinic software transforms data into actionable insights, helping healthcare systems become more responsive and inclusive.
Conclusion
Clinic software holds immense potential to improve healthcare accessibility by streamlining administrative processes, enhancing communication, and leveraging technology for remote care. With the implementation of clinic software, individuals can enjoy easier appointment scheduling, better access to their medical records, and the convenience of telemedicine.
Moreover, improved prescription management, efficient billing and insurance processing, and data analytics contribute to a more accessible and affordable healthcare ecosystem. As technology continues to advance, clinic software is set to play a pivotal role in breaking down barriers and ensuring that healthcare is accessible to all, regardless of location or circumstance. By harnessing the power of software, we can work toward a future where everyone has equitable access to the healthcare they need.
Detailed features: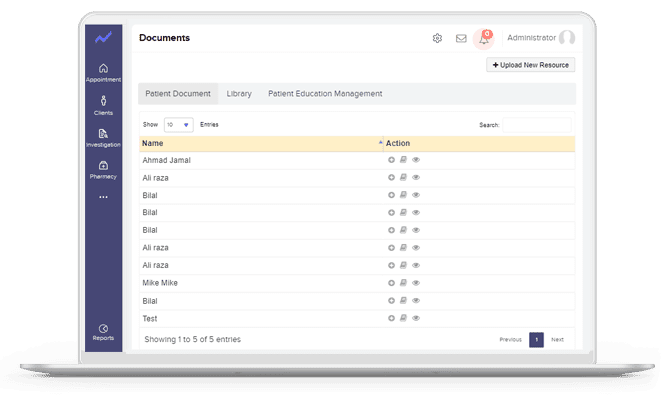 EHR Documents
For complete, accurate, and up-to-date information availability, capture, scan, and attach paper charts, clinical pictures, photographs, x-rays, audio files, and medical drawings into the electronic chart or through an integrated PACS system.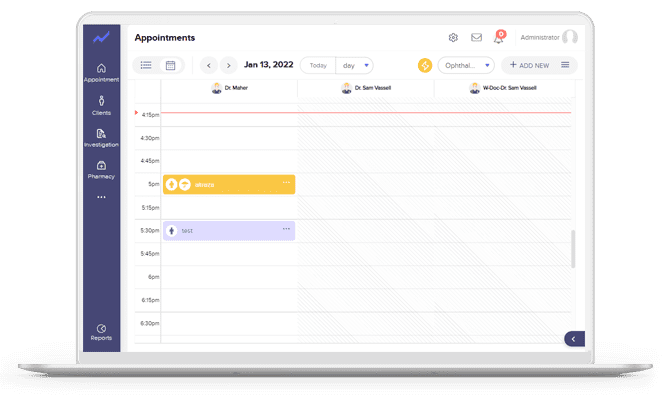 EHR Insurance
Your team will be busy updating patient records and educating patients about potential changes in their insurance plans. Our eligibility verification tool will decrease their workload in half, as well as your phone bill. No more calling insurance companies to verify patient eligibility; our technology accomplishes it for you in seconds, even before the patient arrives.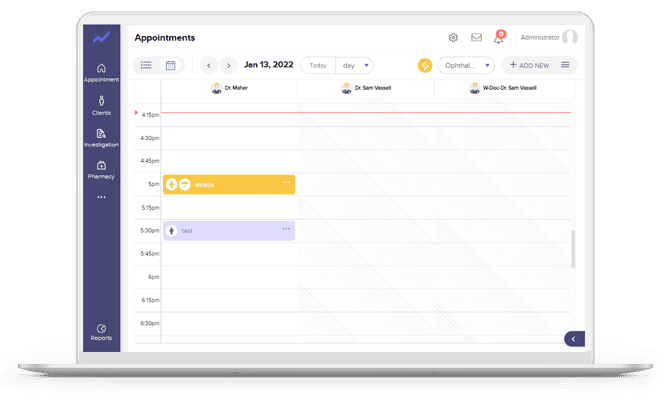 Innovative EHR For A Workflow That Just Works
On a single clutter-free screen, schedule and manage resources for various providers, locations, and days. Advanced features that improve efficiency and service quality include recurring appointments, direct eligibility checks, and administrative notifications.

Clinic Software in Saudi Arabia
Clinic Software in Saudi Arabia
Clinic Software in Saudi Arabia
Clinic Software in Saudi Arabia
Can clinic Software in Saudi Arabia improve healthcare accessibility? similar software solutions prices were updated on 2023-12-08T21:32:37+00:00 in Saudi Arabia in Mecca, Medina, Riyadh, Khamis Mushait, Yanbu, Jeddah, Dammam, Unaizah, Uqair, Ha'il, Ta if, Al Bahah, Dhahran, King Abdullah Economic City, Najran, Diriyah, Qatif, Khafji, Jubail, Abqaiq, List of Cities and Towns in Saudi Arabia, Ras Tanura, Turubah, Jazan Economic City, Knowledge Economic City, Medina, Khobar, Abha, Tabuk, Saudi Arabia,
similar software solutions prices were updated on 2023-12-08T21:32:37+00:00 We also provide in Saudi Arabia services solutions company in Hafar Al-Batin, Udhailiyah, Al-Awamiyah, Hofuf, Hautat Sudair, Buraidah, Tayma, Duba, 'uyayna, Saihat, Al-Kharj, Al-ula, Jizan, Rumailah, Ar Rass, Arar, Shaybah, Al Majma'ah, Rabigh, Dhurma, Haradh, List of Saudi Cities by Gdp Per Capita, Badr, Sudair Industrial City, Baljurashi, Shaqraa, Al-Khutt, Habala, Ad Dawadimi, Dawadmi, Layla, similar software solutions prices were updated on 2023-12-08T21:32:37+00:00 Price is SAR 100 and this was updated on updated on 2023-12-08T21:32:37+00:00
similar Can clinic Software in Saudi Arabia improve healthcare accessibility? software solutions prices were updated on 2023-12-08T21:32:37+00:00 in Saudi Arabia in Haql, Afif, Al-Abwa, Farasan, Al-Jaroudiya, Thadig, Al-Thuqbah, Al Wajh, Almardmah, Al-Zilfi, Muzahmiyya, Prince Abdul Aziz Bin Mousaed Economic City, Tharmada'a, Skaka, Um Al-Sahek, Sharurah, Tanomah, Bisha, Dahaban, Al Qunfudhah, Qurayyat, Saudi Arabia, Ha'ir, as Sulayyil, Al Lith, Turaif, Al-Gway'iyyah, Samtah, Wadi Ad-Dawasir, Az Zaimah, Safwa City, Jalajil, Harmah, Mastoorah, Hotat Bani Tamim, Jabal Umm Al Ru'us, Rafha, Qaisumah, Al-Ghat, Hajrah, Al-Hareeq. Excerpt: Jeddah (also spelled Jiddah, Jidda, or Jedda; Arabic: Jidda) is a Saudi Arabian city located on the coast of the Red Sea and is the major urban center of western Saudi Arabia similar software solutions prices were updated on 2023-12-08T21:32:37+00:00 Price is SAR 100 and this was updated on updated on 2023-12-08T21:32:37+00:00
21-09-2023